KYB is designed so that women engage with the Bible passage through four different methods each week by:
answering the daily questions at home 

group discussion 

t

he Leader's summary after the discussion and 

t

he KYB review notes provided with each study.
Some benefits of study with Know Your Bible are:
A daily devotional pattern is established for each person and all are nurtured by God's Word
KYB Group Leaders are encouraged to study and become effective in sharing the Word with others
If you are interested in joining or starting a KYB study group in your area, please contact us here. One of our KYB Co-ordinators will contact you with details of nearby groups
Past Old Testament Studies available to order:
* Genesis 1-11   'In the beginning…' (2 left)
* Genesis  25 – 36 God builds a people  ( 8 left)
Genesis 37 -50 Intended for good
Judges: God's discipline & deliverance
2 Samuel: The 'house' that God built
1 Chronicles: David – Kingdom & rest
2 Chronicles Part 1: Kingdom & worship
2 Chronicles Part 2: Kings of Judah   
* Nehemiah: Faith & perseverance under pressure   (13 left)
Psalms for pilgrims: Psalms 120 – 136
Amos & Micah: A message for our time
Nahum, Habbakuk & Zephaniah: The end of evil
Haggai & Zechariah: Challenged, empowered, restored

Past New Testament Studies available to order:
* Acts 1 – 12: Gospel & growth (21 left)
* Acts 13 – 28: Message & mission (14 left)
* 1 Corinthians: Maturing in unity & love (11 left)
* 2 Corinthians: Grace & power in weakness (17 left)
* Galations: Grace and freedom (3 left)
Colossians & Philemon: Anchored in Christ (61 left)
Letters of Peter: Godliness and salvation (134 left)
Gospel of John Part 2
* The Problem of Pain– a biblical perspective on suffering & loss (8 left)
*Prayers from the Bible (14 left)
Note: * limited numbers available, please enquire
Updated available to order list 1/07/2022
If any of these studies interest you and your group please Click here to order a hardcopy and request the study you would like.
Current 2022 Studies available to order below: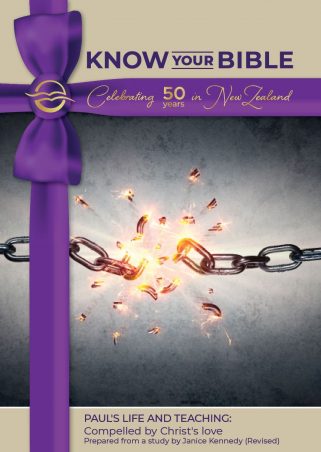 Paul's life and teaching:
Compelled by Christ's love
Series:
2022, Term 3 |
 Cost $10
                                                                                                                      "Love is kind and patient, never jealous, boastful or quick tempered. It does not keep a record of wrongs that others do. Love rejoices in the truth, but not in evil. Love is always supportive, loyal, hopeful and trusting. Love never fails!"                                                                      1 Corinthians 13:4-8.
Today we often use Paul's beautiful words about love at weddings and other special events. But Paul orginially wrote these verses to a church with serious problems, and to people who criticised him. It is in this chapter we see the evidence of God's work in Paul's life. Before he met Christ, Paul was full of selfish ambition, violence and hatred – yet God had transformed him, and Paul now wrote these amazing words about love.

As we study the Life of Paul these same words on love will encourage us to take a fresh look at our own hearts. We will see our need of God's transforming touch to show this love to others. We will discover more fully that the change in Paul shows us that no-one is beyond God's grace. No matter what our past has been, God can give us a fresh start, a new identity and purpose, we who are nothing can be filled with Him who is everything – and that will make us something!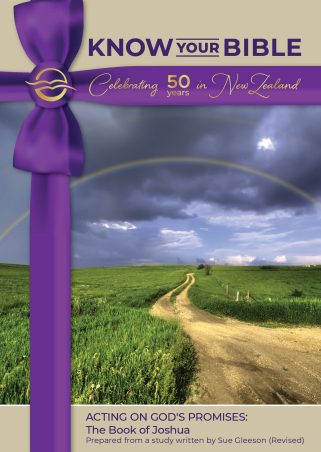 Acting on God's Promises: 
The Book of Joshua
Series: 2022, Term 2 | Passage:  Joshua 1-24   (149 copies left) Cost $10
God never leaves His work unfinished! Joshua completes what Moses began.
The book of Joshua starts where Deuteronomy stops and we see Joshua leading the Chosen People, overcoming the enemy and occupying the land God had promised them. Joshua completes what Moses began, and in this we learn that God never leaves His work unfinished. We see God, the great Craftsman as always having another tool sharpened and ready for use. This study also helps us to see that service is for everyone and that we too can honour God best by taking up our task with a strong and resolute heart that trusts Him. God was now speaking to Joshua.
God is still speaking today; and if we listen, we will hear Him speak to us.
"So be strong and brave. Be careful to do everything my servant Moses taught you. Never stop reading The Book of the Law he gave you. Day and night, you must think about what it says. if you obey it completely, you and Israel will be able to take over this land."            Joshua 1:7-8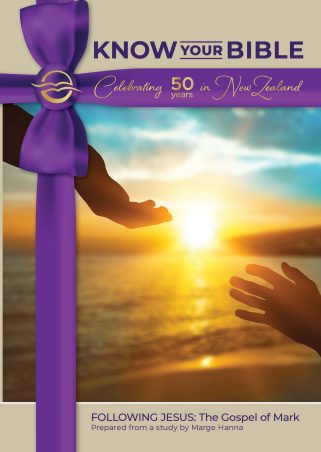 Following Jesus: The Gospel of Mark
Series:
2022, Term 1 |
Passage:  
Mark 1-16    (51 copies left) Cost $10
Mark wants his readers to know exactly who Jesus is, and to respond to Him. Mark wants more than just amazement at the wonderful things Jesus did. He wants them to believe in Jesus: here is the Messiah, the Son of God, listen to Him!
Mark writes, "And He did this", "And He said that." He also shows us that Jesus must teach people, He must cheer people. He must heal people; they were sick and suffering. He must free people; they were under the power of Satan. He must pardon and cleanse people; they were sinful.
We see Jesus preaching by the seashore and selecting four of the fishermen to become His first disciples to learn under His guidance how to become "fishers of men." They were to take all their practical knowledge and skill used to catch fish and use them to catch men and women. We will also see that Jesus never called any idle person. He called busy and successful people to follow Him. People who at once left their nets and followed him.
The action in Mark is rapid, and events appear to be happening before our very eyes. Mark's descriptions are short and direct, but he preserves many things for us that would otherwise have been lost. It is only in the Gospel of Mark that we are told, for example, that Jesus was a carpenter. Mark tells us that Jesus took little children, "in his arms." He also tells us that Jesus was "grieved," that He "sighed," He "wondered and He "loved" (Mark 10:21).
Let us approach this study with teachable hearts as Mark takes us on a journey with Jesus. May we 'see' Jesus through Mark's eyes: God's Son, Messiah — and respond with repentance, belief, obedience and worship, remembering we have the privilege of having the Holy Spirit to teach us and empower us to live the way God wants.
Past 2021 Studies available to order below: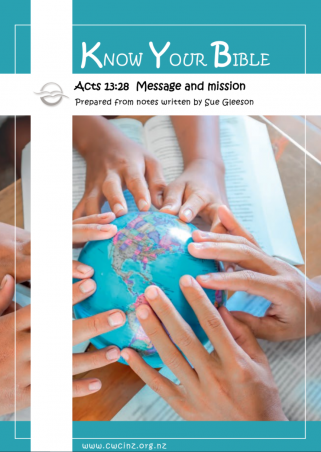 Message and mission: Acts 13-28          
Series: 2021, Term 1 | Passage:  Acts 13-28     Cost $10
ACTS PART TWO – the gospel is powerful and demands a response: accept or reject. There is the need to understand that God's plans do not always look like human 'success' and to also understand that God works in and through suffering.
When people go on holidays or travel overseas they often come back with lots of photos and stories to share. Sometimes these photos and stories are entertaining, sometimes not. But for those showing the photos and telling the stories, it is all very interesting and they want to share these with others. Studying Luke's account of Paul's missionary journeys, we see something similar. However, it was not Luke who selected which 'photos' to show, or which stories to tell: he was inspired and directed by the Holy Spirit. He wrote about places, events and people — all of which have a reason for being included. They contain things God wants us to 'see' and to know about. What then are the 'photos' and stories Luke shows us? Who are the people involved? As we work our way through this series in the turbulent and often dramatic times of the early church, let's ask ourselves: What is it that God wants me to know?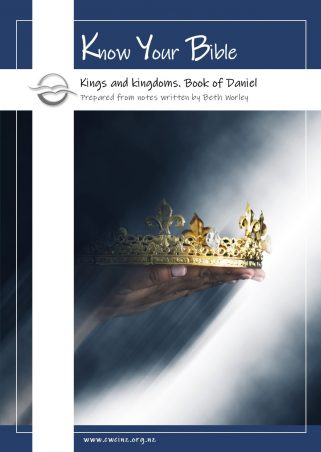 Kings and kingdoms – The Book of Daniel
 sold out
Series: 2021, Term 2  l Passage: Daniel

Daniel – Learning to live in a society that does not acknowledge the one true God; learning the importance of prayer and how to stand firm, knowing that as we do so God will provide and protect us through all circumstances that we face in this world today.
Some have described this study on the book of Daniel as challenging and rather difficult at times. But we read how Daniel and his three friends adapted to their new way of life in a foreign land, we see how they continued to be firm in their faith knowing that their life experiences were all about God. It is a book of daring to believe in who God is, no matter what opposition or trials come our way. This book also reveals times of the future showing how God will save those who stand firm with reverence and full of worship for our great God, our Heavenly Father, as we learn more of who He is and how He acts. Like the rest of the Bible, the book of Daniel is God revealing Himself to us as the Sovereign Lord. He is the focus.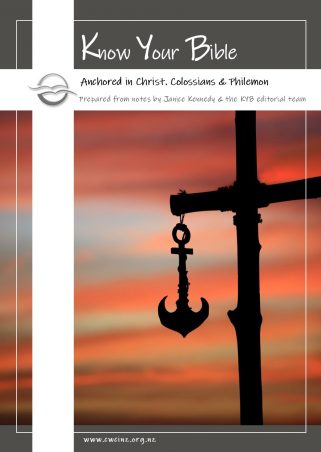 Anchored in Christ –  Colossians & Philemon
Series: 2021, Term 3  l  Passage: Colossians & Philemon    Cost $10
COLOSSIANS & PHILEMON – Anchored in Christ: knowing the truth of what we believe and how to live it out and knowing that Jesus can transform any relationship.
What do you think people mean when they talk about 'spirituality' today? Your local bookstore and news agent probably have a vast range of books and magazines on the topic of spirituality. People today believe that there are many acceptable ways to God. They think they can simply pick and choose ideas from different religions and world views: a little bit of this and that, from here and there. It seems likely that this was also the situation for the Colossian believers. These kinds of influences from the community outside the church can sometimes shake the faith of new believers. So, Paul wanted to make sure that these believers knew God's will, and how to live His way. Paul especially wanted to encourage them to grow in their personal knowledge of God Himself. Let's listen with 'tuned-in' hearts to what God wants to say to us. How can we use this part of His Word to pray for, and encourage others?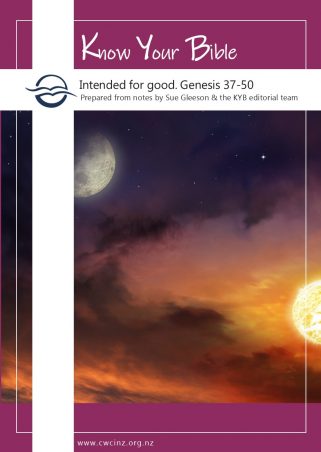 Intended for Good – Genesis 37-50
Series: 2021, Term 4  l  Passage: Genesis 37-50   Cost $10
GENESIS PART FOUR – Understanding that even in times of apparent disaster God is in control and that He even uses the actions of others to help us confront our own sins and what is more, our loving God works even our failures into His plans.
Everyone likes a feel-good story. But in chapter 37, a young man is betrayed, a father is thrown into deep, lasting grief and a family is torn apart. In chapter 38, a man fails to meet his responsibilities and a widow faces a desperate situation. There is so much pain and family strife in these records!
Thankfully, in Genesis chapters 37–50 we will see — over and over again — that it is God who writes the end of the story. Over time, He would work through all these events to further His loving purposes for the world and the people He created.
But how do these events relate to our modern-day lives, with our own family challenges, facing our own hopes and uncertainties about the future? This study will answer these questions and help us trust God's sovereignty in every situation.