KYB is designed so that women engage with the Bible passage through four different methods each week by:
answering the daily questions at home 

group discussion 

t

he Leader's summary after the discussion and 

t

he KYB review notes provided with each study.
Some benefits of study with Know Your Bible are:
A daily devotional pattern is established for each person and all are nurtured by God's Word
KYB Group Leaders are encouraged to study and become effective in sharing the Word with others
If you are interested in joining or starting a KYB study group in your area, please contact us here. One of our KYB Co-ordinators will contact you with details of nearby groups
If any of these studies interest you and your group please  Click here to order the study you would like.
2023 KYB Studies: Term 1: Revelation, Term 2: 1st & 2nd Thessalonians. Term 3: Christ in the Old Testament, Term 4: The book of Ruth. These titles available to order around two weeks before each new school term.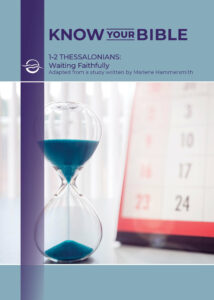 1-2 Thessalonians: Waiting Faithfully
Series: 2023, Term 2 |  Cost $10
Assurance for the future, encouragement in witnessing, walking with the Lord, comfort in the loss of Christian loved ones, and stability in a world that is very unsure of itself, is the message of Paul to the Thessalonians. His letters to the young church at Thessalonica were written because people there had found, in the good news about Jesus, a way to be changed in themselves. These letters also clearly reflect that the focus and purpose of their lives had been drastically altered and renewed.                                                                      Studying Thessalonians is key to helping us understand the importance of living for eternity and not just for the present. It also helps us to come to understand that living "with eternity's values in view" is what makes our Christian life meaningful today.            The church at Thessalonica was carried away with the expectation of Christ's glorious return.                                                                              
May it too be our experience as we read and study these precious words telling of Christ's return.
Who can help but be thrilled when thinking about His triumphant return? BUT we are urged to keep our feet on the ground and work while we wait, pray as we watch, for there is much to do while we wait for Christ to come back. 
Christ died for us, so we could live with him, whether we are alive or dead when he comes. This is why you must encourage and help each other, just as you are already doing. 1 Thessalonians 5:10-11 .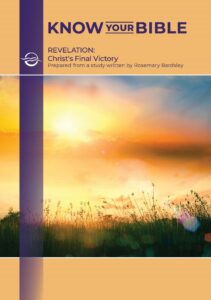 Revelation,

Christ's Final Victory
Series: 2023, Term 1 |  (100 left) Cost $10  
Jesus Christ is the Victor, Jesus is the King of Kings and the Lord of Lords. As His followers, we will reign with Him forever in the New Heaven and the New Earth. What wonderful reassuring words for this day and age. As we study the book of Revelation, we will want to shout in victory and fall at Jesus; feet in humble worship, for truly He alone is worthy to be praised.
We will see that John wrote this book to encourage first century Christians who were experiencing great suffering. Through all the centuries reading and studying Revelation has brought comfort and hope. Why?
Because its symbols are timeless and may be understood by believers in any period of history.
Because its promises are eternal and may be trusted by all saints. But most importantly, drink deeply of the truths of God's Word, for in them you will find Jesus Christ, and in Him freedom, assurance, peace, joy and the hope of HIs coming again.
Come, Lord Jesus, come – and come soon!
Come and take your bride, the church, to be with you forever!
The last words of Christ in His Revelation are "Yes, I am coming soon!"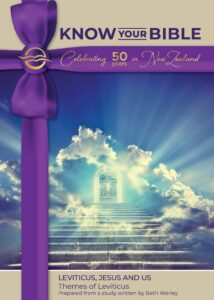 Leviticus, Jesus and us: Themes of Leviticus
Series: 2022, Term 4 |   Cost $8  
Leviticus is all about the LORD's intense desire to draw close to his people Israel, and for them to draw close to him. But God is holy, and they were not. How could they possibly draw near to him? Through the instructions in Leviticus, God gave his people the answer. Perhaps to our surprise, Leviticus was good news for ancient Israel!
Why then would we study Leviticus? All of God's word — including Leviticus — teaches and equips us to serve him (2 Timothy 3:16–17).
Leviticus helps us understand: 
God's holiness and grace
our sin, and its deep cost
God's unfolding plan of salvation
how Old Testament laws expressed God's character
our privilege, living when animal sacrifice is no longer necessary
how much God wants us to live Holy lives
what we mean when we say Jesus died for us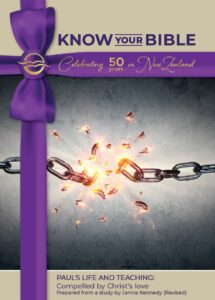 Paul's life and teaching: Compelled by Christ's love
Series:
2022, Term 3 |
   (25 left) Cost $10
"Love is kind and patient, never jealous, boastful or quick tempered. It does not keep a record of wrongs that others do. Love rejoices in the truth, but not in evil. Love is always supportive, loyal, hopeful and trusting. Love never fails!"                  1 Corinthians 13:4-8.
Today we often use Paul's beautiful words about love at weddings and other special events. But Paul orginally wrote these verses to a church with serious problems, and to people who criticised him. It is in this chapter we see the evidence of God's work in Paul's life. Before he met Christ, Paul was full of selfish ambition, violence and hatred – yet God had transformed him, and Paul now wrote these amazing words about love.

As we study the Life of Paul these same words on love will encourage us to take a fresh look at our own hearts. We will see our need of God's transforming touch to show this love to others. We will discover more fully that the change in Paul shows us that no-one is beyond God's grace. No matter what our past has been, God can give us a fresh start, a new identity and purpose, we who are nothing can be filled with Him who is everything – and that will make us something!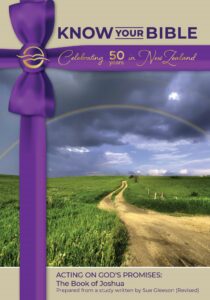 Acting on God's Promises: 
The Book of Joshua
Series: 2022, Term 2 | Passage:  Joshua 1-24   (8 copies left) Cost $10
God never leaves His work unfinished! Joshua completes what Moses began.
The book of Joshua starts where Deuteronomy stops and we see Joshua leading the Chosen People, overcoming the enemy and occupying the land God had promised them. Joshua completes what Moses began, and in this we learn that God never leaves His work unfinished. We see God, the great Craftsman as always having another tool sharpened and ready for use. This study also helps us to see that service is for everyone and that we too can honour God best by taking up our task with a strong and resolute heart that trusts Him. God was now speaking to Joshua.
God is still speaking today; and if we listen, we will hear Him speak to us.
"So be strong and brave. Be careful to do everything my servant Moses taught you. Never stop reading The Book of the Law he gave you. Day and night, you must think about what it says. if you obey it completely, you and Israel will be able to take over this land."            Joshua 1:7-8
Past Old Testament Studies to order:
Genesis 37 -50 Intended for good, 5 unit study (111 left) $8
Judges: God's discipline & deliverance Sale price $3
2 Samuel: The 'house' that God built Sale price $3
1 Chronicles: David – Kingdom & rest Sale price $3
2 Chronicles Part 1: Kingdom & worship Sale price $3
2 Chronicles Part 2: Kings of Judah Sale price $3
Nehemiah: Faith & perseverance (3 left) $10
Nahum, Habbakuk & Zephaniah: The end of evil Sale price $3
Haggai & Zechariah: Challenged, empowered, restored Sale price $3
Past New Testament Studies to order:
Acts 1 – 12: Gospel & growth (11 left) $10
Acts 13 – 28: Message and mission (14 left)
Letters of Peter: Godliness and salvation, 5 unit study (134 left) $8
The Gospel of Mark: Following Jesus (3 left)
Gospel of John Part 2 Sale price $3
Colossians & Philemon: (6 left)
Good News The Bible and its Message (24 left) $10
The Holy Spirit in the Old and New Testaments (29 left) $8